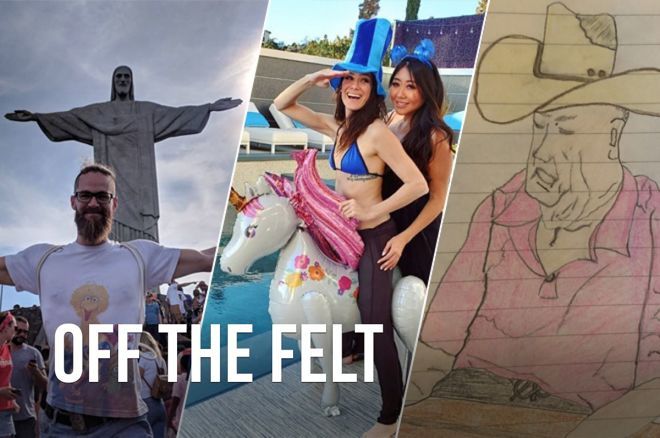 지난 Off the Felt에서에서는 Sam Trickett과 Dan Smith의 일본 여행에 대해 다루었고 Steven van Zadelhoff는 40번째 생일을 맞이 하며 그의 인생 최고의 몸매를 뽐내고 있었다. 이번주는 포커 트위터에서의 몇몇 재미있는 트윗글과 리우데자네이루에서의 관광에 대해 다루어보자.
재미있는 트윗
Mike Gorodinsky가 포커 플레이어들의 인물화를 그렸다. 끝내준다는 말밖에!
많은 사람들이 프로 포커 플레이어를 꿈꾸지만 이 남자는 그 꿈이 계획했던대로 풀리지 않은 것 같다.
Garrett Adelstein의 조언
Lexi Sterner가 무슨 말 하는지 단번에 알겠네요
이건 정말..

"There is literally nothing I hate more than explaining being a poker player to a non poker player. #soitsjustlikeblackjackright #poker
— Lexi Sterner (@leximariesterne) "
리우데자네이루에서의 관광
몇몇 플레이어들이 브라질의 리우데자네이루에서 열리는 partypoker MILLIONS South America에 참석했다. 포커만 즐긴 것이 아니라 도시 역시 즐겼는데
Hellmuth는 역시 Hellmuth. 이벤트 입장 장면입니다.
다른 업데이트들